ENELOOP COMPACT CHARGER WITH 2AA Battery Included
SALE!
NOW: 450
BEFORE: 750
FEATURE
Type: Battery Charger

Capacity: up to 2000 mAh

Overnight Charger with 2 AA Eneloop

2100 charging cycles

Flat Pin PluG
eneloop charger

A smart and quick charger designed for the entire eneloop range, 
with 2 x AA batteries included
Keep your eneloop batteries charged and ready to go with this lightweight smart and quick charger. 
This handy device charges both AA and AAA.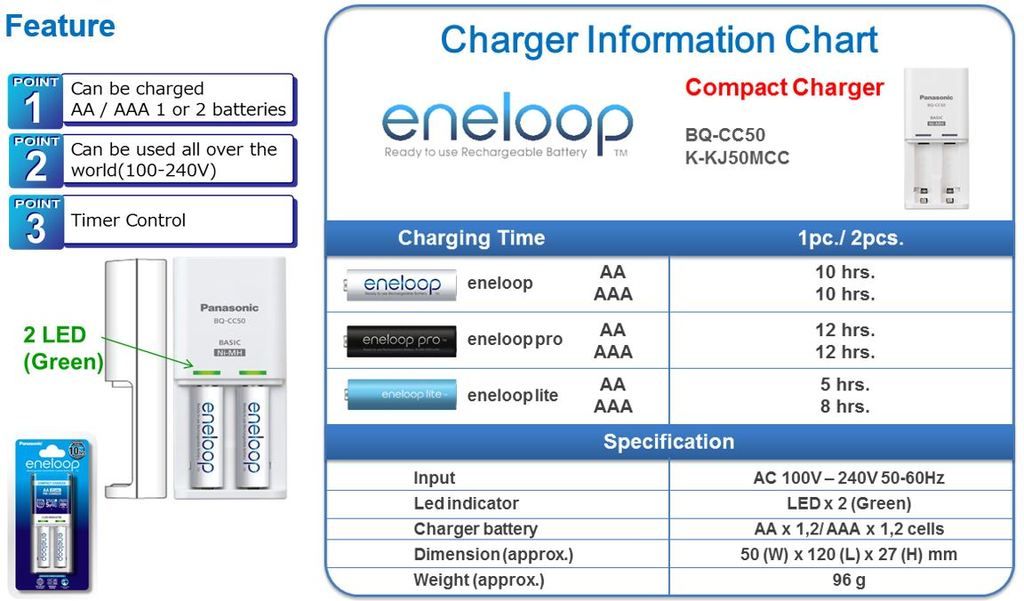 Why Choose eneloop ?

Benefits of both Technologies
Ready-to-use eneloop combines the best aspects of dry cell and rechargeable Ni-MH technology. They're convenient, durable, and storable for long periods, yet can be reused again and again


Recharge up to 2,100 times
Your initial investment is quickly recovered, with eneloop returning an impressive 2,100 charges over an average lifespan. Depending on usage, this could equal years of trouble-free service

Ready to use after 5 years in storage
Even after five years in storage, eneloop retains up to 70% of its original charge.  
Pre-charged with Solar Energy
Pre-charged with sustainable solar energy at the factory and can be used immediately after purchase 

eneloop Family